ASHLEY COOKE SHINES IN NATIONAL TELEVISION DEBUT ON ABC'S "THE BACHELORETTE"
November 17, 2022
ICYMI: ASHLEY COOKE SHINES IN NATIONAL TELEVISION DEBUT ON ABC'S "THE BACHELORETTE"
COOKE WAS JOINED BY BRETT YOUNG TO PERFORM "NEVER TIL NOW" ON THE HIT ROMANCE REALITY SERIES YESTERDAY (7/18)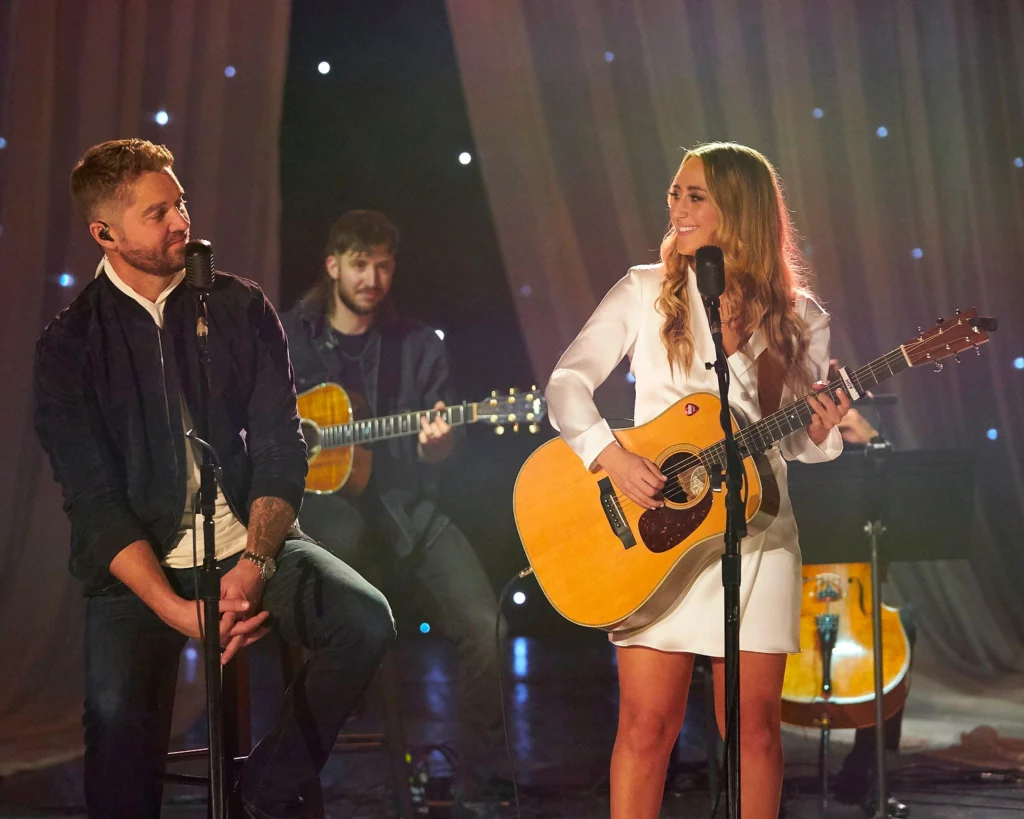 Photo Credit: Craig Sjodin | Download here
NASHVILLE, TENN. – Rising country artist Ashley Cooke made her striking national television debut on ABC's "The Bachelorette" last night, July 18. The episode featured an intimate performance of Cooke and country superstar Brett Young's "swirling" (MusicRow) love song "Never Til Now" on episode two of the hit romance reality series with the newest Bachelorettes, Rachel Recchia and Gabby Windey.
After unwavering support of each other through a devastating dual breakup in the season 26 finale of "The Bachelor," fan favorites and fierce women Rachel Recchia and Gabby Windey stand by each other's side once again as they set out on a journey to find love. Last night's show featured Rachel's first one-on-one date with Jordan V, before it came to an abrupt end when the professional racecar driver was sent home during the first date. In what should have ended in an intimate moment for the couple, Cooke and Young performed their "tender, romantic ballad" (Billboard) at the iconic Los Angeles Theatre to the solo and somber co-Bachelorette, Rachel.
"Getting to make my TV debut is unbelievably exciting in general.. but especially getting to debut on "The Bachelorette!" It was so fun to get to marry the two worlds of TV and music and to do it all with my friend and duet partner, Brett Young," shares Cooke. "It's been incredible to see how my song "Never Til Now" has resonated with so many people in every phase of love whether they've found their person or they're manifesting it through these lyrics. It's an honor to get to be the voice behind the story and to get to be a small part of Rachel and Gabby's journey to finding love."
Originally released on her debut project Already Drank That Beer in Aug. 2021, the track resonated with fans far and wide across social platforms, prompting Cooke to release the reimagined love song with Young's superstar power in April 2022. Penned by Cooke alongside hit songwriter Matt Roy, the romantic song about finding love when you least expect it topped Sirius XM's The Highway's Hot 30 Weekend Countdown and makes its TV debut as it continues to soar at country radio. Upon last night's performance, the "superb vocal blend" (Billboard) rose to the top of the iTunes Country charts.
Keeping her fans part of the journey, the "social media sensation turned Country music artist" (CMT) celebrated the major career milestone by inviting five lucky fans to watch the premiere with her at Nashville's Nightscapes. See her reaction here.
With her first major TV appearance under her belt, the Big Loud Records / Back Blocks Music artist continues to tour across the country this summer at some of the summer's most anticipated fairs and festivals before Cooke gearing up to head back out on Cole Swindell's Back Down To The Bar Touras direct supportthis fall.